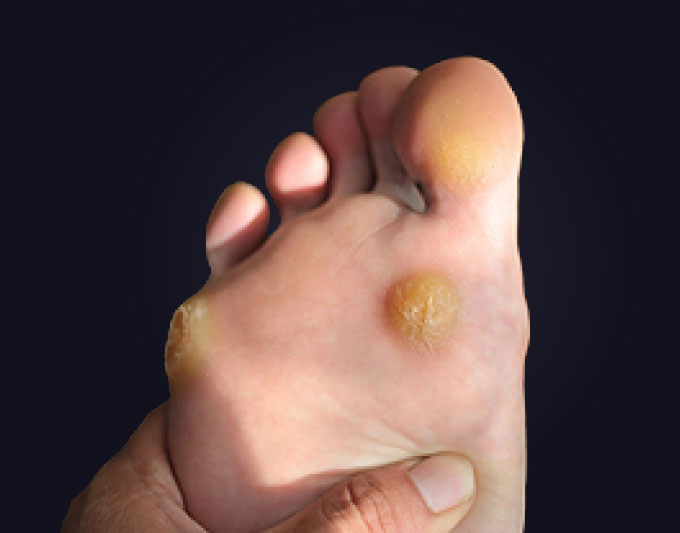 Plantar corns are one of the most common foot problems, in which one has a constant feeling of havinging a stone in the shoe. 'Planter' is the medical term for the sole of the foot, where usually the corns occur. Corns are hardened areas of skin, occurring on the specific areas of feet which suffer continual rubbing and pressure. They are usually found at the side of the toes and occasionally in between toes. When it occurs between the toes, the sweat makes the surface supple, this condition is termed as 'Soft corn'. The Planter corns are often confused with another foot problem, Planter Warts.
The Plantar corns occur when a major bone pushes against the inside of the shoe, applying unnecessary pressure on the skin of the toes. This pressure causes the skin to thicken, leading to formation of corns. Corns do not spread on the surface but instead creep deep inside the flesh, acquiring a cone form with the peak facing inwards. This structure applies constant pressure on the nerves giving a 'stone in the shoe' feeling.
Following conditions develop friction on the toes leading to occurrence of corns:
Wearing very tight foot wear or socks.
Wearing high heel shoes which create pressure on the toes.
Wearing very loose shoes in which the foot slides and rubs against the inside of the shoe.
Deformed toes.
Walking on hard surface for very long time
As corns are created due to excessive pressure, one must relax the pressure on the high risk areas to cure and arrest the further growth. Homeopathy treats plantar corns successfully from inside and prevents its further formation. The main homeopathic remedies for plantar corns are:
Antim crudum– It is indicated with large horn shaped corns found on the soles of the feet. The skin of the feet and soles becomes thick. The feet and soles become very sensitive and patient is not able to walk on hard surfaces like well paved roads.
Ran Sceleratus– This remedy is indicated in very painful corns. The surrounding areas of the corn appear red and sore. Corns occur on the balls of the toes and are very sensitive to touch and pressure. Flexing of area near the corn causes more pain and at times one can feel numbness in the area.
Ferrum Picricum– It is considered a great remedy to complement other remedies. t is prescribed for the multiple occurrence of the plantar corn. The corns also bear a yellowish discoloration.

Plot no:41,
Street No:11 (Near the Telecom Nagar Park Gate),
Telecom Nagar, Gachibowli,
Hyderbad-33, INDIA.